Tumors | Pseudotumors | Osteopoikilosis : MRI of the elbow


50 year old male presenting with painful elbow :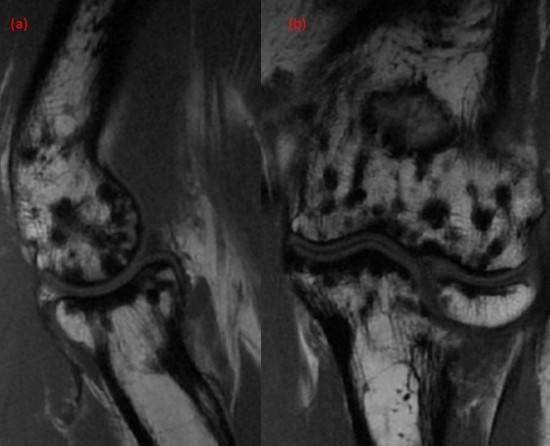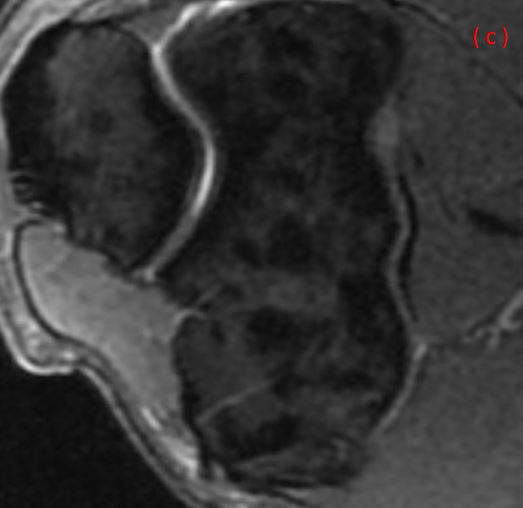 Fortuitous discovery of multiple well defined rounded condensing images, interesting the epiphysal and metaphysal regions of the elbow joint, presenting in hyposignal T1 and DP FS, suggestive of enostoses.
(a) T1 weighted sagittal section of the humero radial joint, (b) T1 weighted coronal section of the middle aspect of the elbow joint and (c) DP FS weighted axial section of the humero radial joint.
This case illustrates osteopoikilosis comprising multiple enostoses (benign lesions), usually of symmetrical distribution, with a preferential localisation for epiphysal and metaphysal regions of long bones, the carp, tarsus, scapula and pelvic bone. It is of usual fortuitous discovery but may be associated with disseminated lenticular dermatofibrosis ( Bushke-Ollendorf syndrome), with a prevalence of 1/20000 individuals. It is asymptomatic but pain and articular limitation has been reported for some patients.
https://www.orpha.net/consor/cgi-bin/OC_Exp.php?Lng=FR&Expert=1306
imagerie musculosquelettique - pathologies générales - Cotten