Knee | Menisci | Agenesis of the popliteomeniscal fasciculi: MRI and CT


20 years old man with suspicion of femoro patellar instability
A MRI is performed with no visible abnormalities
Figure A: Sagittal DP fat sat weighted MRI

posterior horn of lateral meniscus (green arrow)
anterior horn of lateral meniscus (blue arrow)
Figure B: axial DP fat sat weignted MRI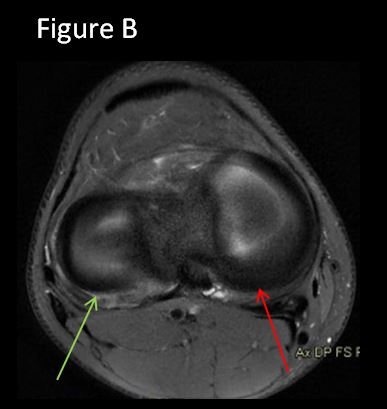 posterior horn of lateral meniscus (green arrow)
posterior horn of medial meniscus (red arrow)
Figure C: coronal DP fat sat weignted MRI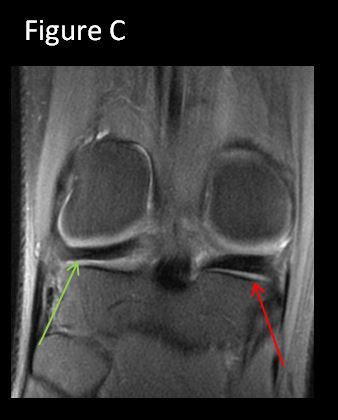 posterior horn of lateral meniscus (green arrow)
posterior horn of medial meniscus (red arrow)
Figure D : Sagittal arthrogram
Failure to attach the posterior horn of the external meniscus with agenesis of the postero-superior (red arrow) and anterior-inferior (purple arrow) poplito-meniscal fasciculi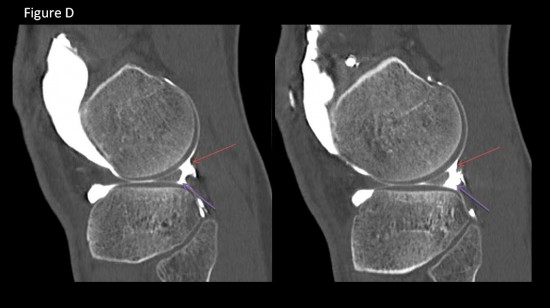 Figure E et F: sagittal arthrogram of two patients with normal postero-superior (blue arrow) and anterior-inferior (green arrow) poplito-meniscal fasciculi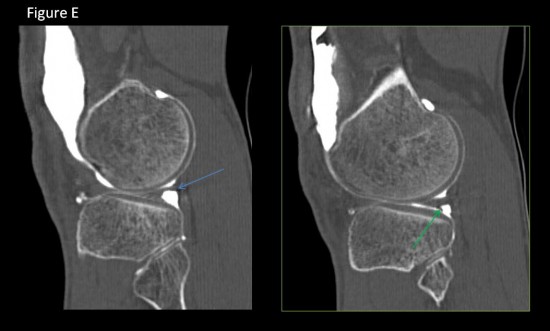 The popliteo-meniscal fascicles prevent the excessive displacement of the lateral meniscus, particularly internally during the extension of the knee (1).

These are thin bands of connective tissue interposed between the posterior horn of the lateral meniscus 
and the articular capsule.

A cadaveric study (2) identified 3 poplito- meniscal fascicles

- antero-inferior, which is born at the inferior border of the posterior horn of the lateral meniscus, 
travels downwards and outwards, forming the floor of the popliteal hiatus, and attaches to the 
myotendinous junction of the popliteal muscle

- postero-superior which is born at the superior edge of the posterior horn of the lateral meniscus, 
travels backwards forming the letoit of the popliteal hiatus and attaches to the posterior capsule

- postero-inferior fascicles were also found

Simonian et al. (3) assessed the stability of the lateral meniscus before and after the sequential section
of fascicles. They found a significant increase in meniscus movement after section. The anteroinferior 
fascicle had greater control over lateral meniscus movement than the postero-superior fascicle.
1 Staubli HU, Rauschning W. Popliteus tendon and lateral meniscus: grossand multiplanar cryosectional anatomy of the knee. Am J Knee Surg1991;4:110–21.
2 Peduto A, Nguyen A, Trudell D, Resnick D. Popliteomeniscal fas-cicles: anatomic considerations using MR arthrography in cadavers. AJR2008;190(2):442–8.
3. Simonian PT, Sussmann PS, Wickiewicz TL, Potter HG, Van TrommelM, Weilland-Holland S, et al. Popliteomeniscal fasciculi and the unstablelateral meniscus: clinical correlation and magnetic resonance diagnosis.Arthroscopy 1997;13:590–6.