Hand | Finger tumors | glomus tumour of the finge: MRI (2)


Young woman with pain of the finger nails
Well-defined 4mm oval lesion of subungual topography at the distal phalanx of the second finger.
Figure a, b and c: The lesion appears as a bright on T2 weighted fat saturation images(red arrow)


Figure d: The lesion appears isointense, well-defined mass on T1 weighted images (green arrow)

figure e: The lesion appears as a bright contrast enhancing mass on T1 post-gadolinium fat saturation images (blue arrow)

Figure f: MR angiography: strong enhancement in the arterial phase and tumor blush (violet arrow)

figure b, c d et e: bone scalping without signal abnormalities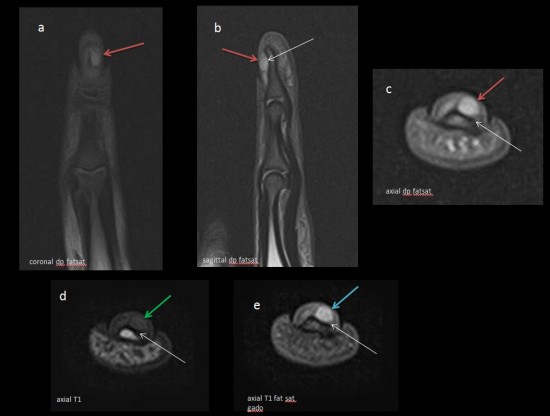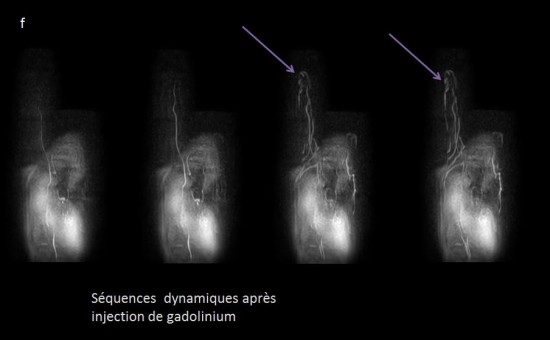 Glomus tumor is a neuro-myo-arterial benign tumor accounting for 1 to 5 % of handtumors which occurs principally in young adult females. It may be unique or multiple.Acute, focalized, pain is the main sign, the pressure of a small trigger zone induces asyncopal pain and immediate hand withdrawal.
MRI:
- well defined mass,
- dark on T1
- bright contrast enhancing on T2 or T1 post gadolinium fat saturation images
- MR angiography: strong enhancement in the arterial phase and tumor blush, which increases in size in the delayed phase