Foot | Arthritis | Chronic Nervous Osteoarthropathy of the Diabetic Foot


Female type 2 diabetic patient presenting with a painful and hot foot. MRI investigation of the left foot.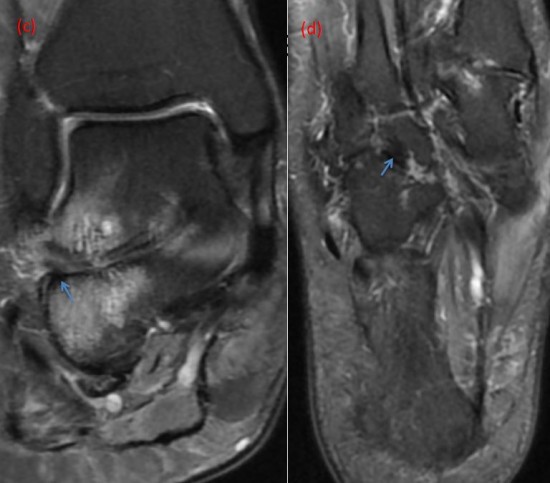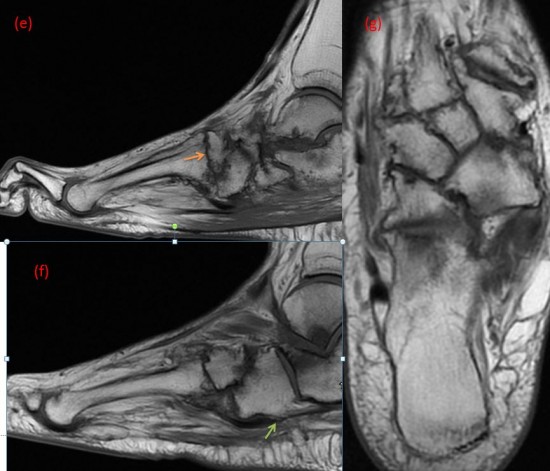 DP FAT SAT weighted slices illustrating oedema of various tarsal bones and especially the medio foot and rear foot, with subchondral predominance interesting the articular margins :
(a) and (b) sagittal views illustrating congestive involvments of the talo calcanear, talo navicular and calcalneo navicular joints.
(c) coronal view of the rear foot illustrating a subchondral oedema of the talo calcanear joint associated with epiphyseal impaction in hyposignal (blue arrow),
(d) axial view illustrating medial Lisfranc and lateral Chopart oedema.
T1 weighted slices illustrating a crenellated aspect of Chopart and Lisfranc joints, secondary to their fragmentation in keeping with a chronic osteoarthropathy of the diabetic :
(e) and (f) sagittal views : orange arrow : crenallated aspect of the medial Lisfranc joint, green arrow : rocker bottom deformity, the cuboid bone becomes a bearing surface.
In conclusion :
This case illustrates nervous osteoarthropathy of the diabetic in its inflammatory phase (Charcot foot), in relation with a destructory arthropathy secondary to multiple factors and notably diabetic neuropathy (proprioceptive disorder, algic sensibility disorder and vegetative nervous system impaiment), non controlled inflammation and arteriopathy.
In the acute phase, the foot can be red and swollen. Pain is inconstant due to neuropathy. These signs are fequently preceded by unnoticed trauma.
In the chronic phase, oedema can persist with a collapse of the medio foot. Inflammatory peaks may reappear in the light of a new trauma.
Differential diagnosis is infectious osteoarthritis but certain differential signs are useful : involvment of the Lisfranc and Chopart joints, articular involvment with subchondral anomalies and poly articular involvment and moderate T1 hyposignal anomalies.
Gil HC, Morrison WB. MR Imaging of diabetic foot infection. Semin Musculoskelet Radiol 2004;8:189-98.